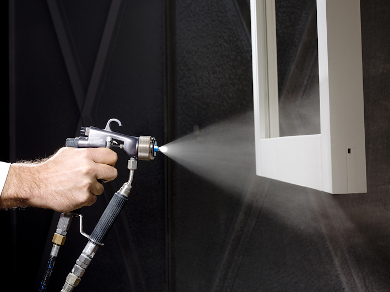 Das beste System für Sie!
Mit dem SOLOCRYL Fensterlacksystem ist es KARL BUBENHOFER AG gelungen, grundsätzliche Mängel bei der Beschichtung von Holzfenstern zu eliminieren.
Hersteller von Holz- und Holz-Metallfenstern erhalten mit unserem innovativen Lacksystem wichtige Vorteile gegenüber bestehenden Anstrichstoffen für Fenster.
– Verhindert erfolgreich das Durchschlagen von Holzinhaltsstoffen durch hervorragende Isolierwirkung der Grundierung.
– Die Produkte erfüllen EN 927 bezüglich Wasserdurchlässigkeit und Wetterbeständigkeit, Haftzugsprüfung nach EN ISO 4624 sowie die nicht in der Norm aufgeführte Hagelschlagprüfung.
– Es stehen verschiedene Grundierungen, Decklacke und Lasuren mit sehr guten Eigenschaften zur Verfügung.
– Alle Produkte werden in der Schweiz entwickelt und hergestellt.
KARL BUBENHOFER
You will find an overview of our most popular products on the
Sortimentsübersicht Industrielacke
.